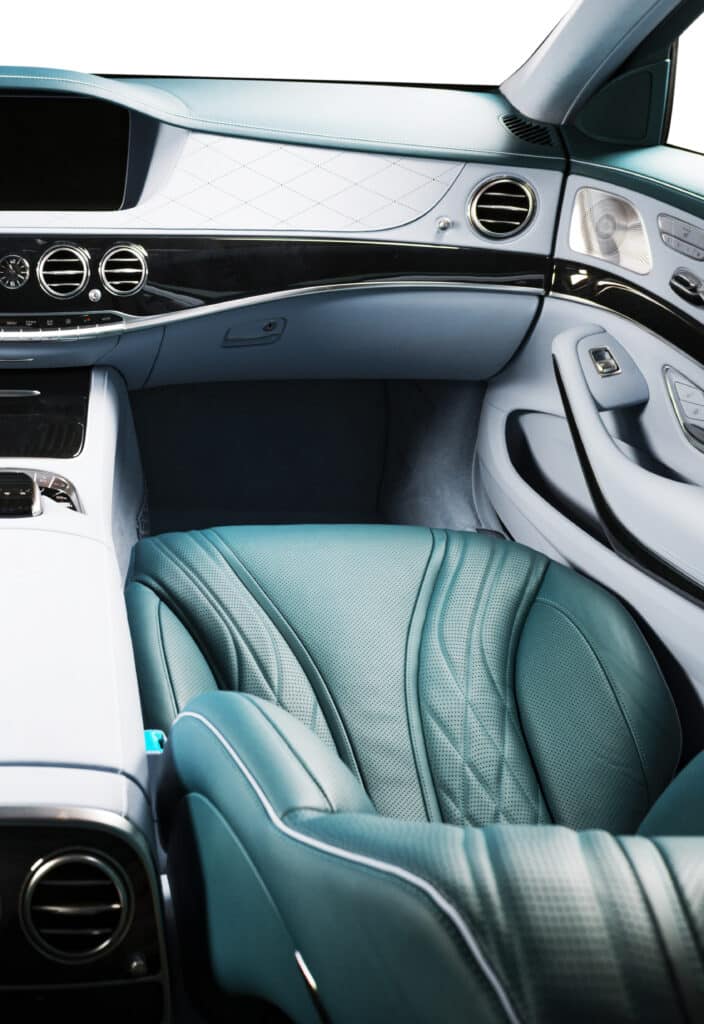 Best Car Upholstery in Dubai by Leather Experts
Long story short – we bring your damaged, torn, and cracked car seat leather back to perfection. We take pride in restoring leather car seats to their original shape and form. And we share the satisfaction with our customers when they sit on finely repaired and suited leather seats! Unlike other companies, we don't keep our clients on hold. The best car upholstery in Dubai at Leather Experts is the top of its range. You can get in touch with us to return style and elegance to your ride.
Do You Need the Best Car Seat Upholstery in Dubai?
Cars look worn out over time, even if you do your best to take care of them. Sometimes, all it requires is the touch of professional craftsmen like the ones at Leather Experts.
Our best car seat upholstery in Dubai can repair your leather seats and freshen up the car interior like never before. For starters, here's what Leather Experts can help you with:


-Cigarette burns,
-Torn/cracked fabrics,
-Discolored/faded fabric,
-Scratches,
-and more!
After years of driving, it's time for your automobile to get the makeover it deserves. Choose Leather Experts to let us enhance your automobile creatively.
Why Choose Us for The Best Auto Upholstery in Dubai?
We choose the finest fabrics and employ the most skilled craftsmen to repair and replace leather seats for our clients. Our unique selling points are multiple which makes us the best auto upholstery in Dubai. Let's count them!
24/7 Customer Support – Always On Time!
We're never late and that's a promise! We ensure that all services are delivered on time and that clients are left satisfied at every stage of the process.
Through our customer call line, we answer queries about car upholstery in Dubai around the clock. Once we get a request from you, our result-oriented workforce's top priorities will be timely job completion and client satisfaction.
Skillful and Competent Craftsmen
Want to make the hassle-free process smoother? You can let our craftsmen know about your car interior dreams and they'll make it work. Through their precise and waste-reducing techniques, they'll give your entire car interior a new makeover providing best auto upholstery in Dubai.
Endless Car Seat Customizations
We source high-end and durable fabrics in different colors, styles, and designs. So feel free to share your ideas and customize the car interior through our best leather car seat upholstery in Dubai.
Get the Best Leather Car Upholstery Services at Leather Experts
Stop your search for the best leather car upholstery services in Dubai by contacting Leather Expert. Our pro technicians can have worked on car varieties ranging from vintage automobiles to modern classics.
Read our client testimonials if you're still having trouble deciding on the right car seat upholstery service provider in Dubai.
Ring us today and get a quote for auto upholstery service in Dubai today!
Request for Project Consultation
Check out why our customers loves us. Please tell us below if you had a positive experience, or an unfavorable experience.
Thank you very much for helping me fixing my sofa. I had a scratch on a new brown sofa and googled a leather store to find a solution. I drove…
J. Nguetta
- Abu Dhabi, UAE
Had my damaged sofa repaired and just got it back. They were able to match the colour and grain perfectly. Time estimates and price were pretty spot on. They were…
Grace Smith
- Jumeirah
Awesome service from start to finish . I can't say enough about the communication and finished product . I sent them an old Harley Davidson leather jacket that was really…
John Rick
- Deira, Dubai. UAE