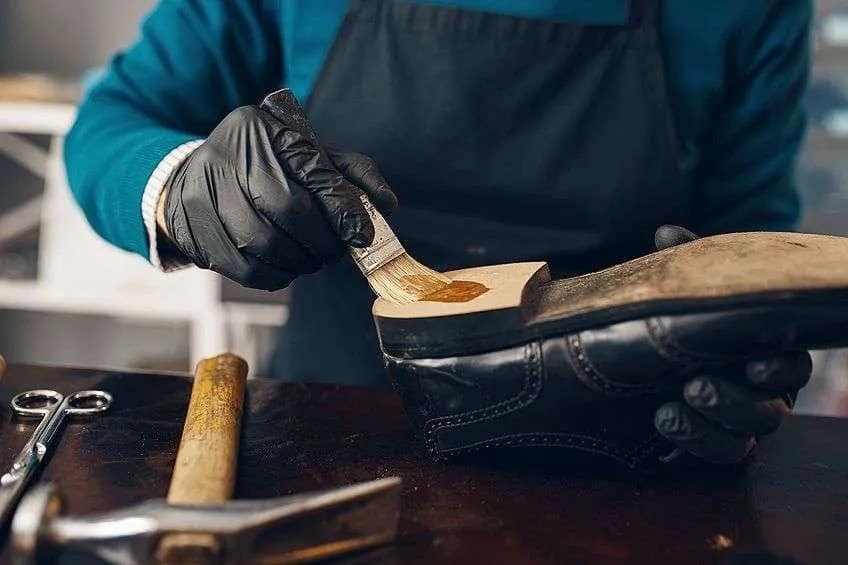 Expert Shoes Repair in Dubai - Every Step's Comfortable with Leather Experts
Your broken, worn, and old shoes can still go with your favorite outfits. Bring them over to Leather Experts for shoes repair in Dubai!  We use the skills of experienced leather craftsmen and long-lasting techniques for leather shoes and turn them into brand-new.
One-Stop Shop for Shoe Repair in Dubai
Shoes make a great first impression, and they're often the first thing new people notice about you. So, why take chances when your most expensive pair of shoes can look like new with a few tweaks and polishes from Leather Expert pros? Our shoe repair in Dubai performs stitching, cleaning, repair, replacement, and more to fully restore your footwear to its original look and comfort. Here's what we take care of for you!
Whether basketball shoes or high-tops, bring us the pair of shoes you want to repair and our skilled craftsmen will do the rest.
A bold appearance ends with finely stitched and clean shoes. So, don't take any chances and bring us your premium leather shoes. We'll have them back on your feet in no time with our excellent shoe repair in Dubai!
Did your lavish heels lose a strap? Do your favorite sneakers have faded colors or a hole in them? We take care of all varieties of women's shoes.
Complete Shoe Repair Services in Dubai by Leather Experts
We specialize in all boots and shoe repair in Dubai – our services include:
-Stitching
-Cleaning
-Polishing
-Fabric Replacement
-Full Long-Sole Repair
-Re-Weit
-Overall Restoration
Find the Perfect Leather Shoes Solutions at Leather Experts
We make booking easy, payment convenient, and most of all, we make the leather restorations spotless! All your leather items, ranging from premium handbags to stylish footwear can get restored flawlessly at Leather Experts. Why?
-We Choose the Best Fabric
Are your shoes pure leather? We'll find the perfect color and material replacement to turn your shoes into a pair of new ones. Let our craftsmen know about the damages and repairs, and they'll pick high-quality fabric for shoe repair in Dubai.
-We Summon Leather Upholstery and Repair Masters
The craftsmen at Leather Experts have been dealing in leather upholstery, shoe repair, and similar services for decades. Hence, you can trust our skills and results.
-We Aim for Client Satisfaction
No matter your needs, we'll make sure you leave fully satisfied and content with our shoe repair services in Dubai. And since repairing footwear and other luxury items rather than repurchasing is better for the environment, we take full pride in our job knowing what we do!
Get in Touch with Shoes Repair Pros at Leather Experts!
Did you give up on your old shoes? Our choice of fabric, expert craftsmen, and years of experience in shoe repair in Dubai and upholstery services make us the prime choice for our customers.
Get your leather or any other type of footwear fixed quickly at reasonable rates!
Request for Project Consultation
Check out why our customers loves us. Please tell us below if you had a positive experience, or an unfavorable experience.
Thank you very much for helping me fixing my sofa. I had a scratch on a new brown sofa and googled a leather store to find a solution. I drove…
J. Nguetta
- Abu Dhabi, UAE
Had my damaged sofa repaired and just got it back. They were able to match the colour and grain perfectly. Time estimates and price were pretty spot on. They were…
Grace Smith
- Jumeirah
Awesome service from start to finish . I can't say enough about the communication and finished product . I sent them an old Harley Davidson leather jacket that was really…
John Rick
- Deira, Dubai. UAE