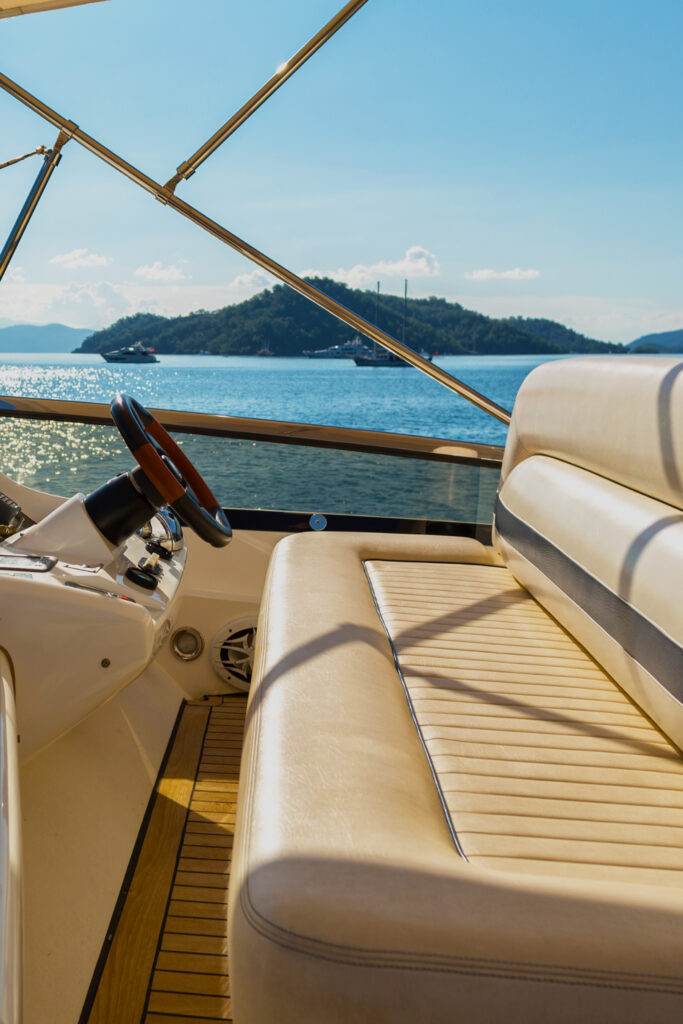 Get High-Quality and Lasting Boat Upholstery in Dubai
Yachts and boats let you escape from hectic lifestyles and busy schedules. While you sit back and relax inside your luxurious maritime vessel, you might find it uncomfortable putting up with a torn seat and damaged fabric. At Leather Experts, we offer high-end boat upholstery in Dubai. We revamp your marine fabric with high-quality, lasting, and eye-catching upholstery services. You can make your time on the waters even more relaxing and peaceful with a tuned and well-kept yacht!
Yachts, boats and marine craft are subjected to some of the harshest conditions under the sun. Due to the exposure of saltwater and sunlight the material will slowly fall apart, leather will fade and crack.

Reborn your yacht cushions and behold to the amazing transformation. Our master craftsman will refurbish and restore the yacht interior to its finest by repairing and re-dyeing holes, tears, scratches and scuffs ensuring that you'll look like you spent a fortune on your boat's interior! Experience the trending and luxury upholstery design as we only use the top upholstery materials nationwide that will withstand the test of time. Contact us today for more information.
Why You Need Quality Marine Upholstery in Dubai
Boats and yachts face the harshest conditions. They are subject to strong winds and high humidity. Constant exposure to saltwater could make your leather seats fade and crack. That's where our leather care in the form of marine upholstery in Dubai comes in! We ensure the leather or other fabric on your vessel remains comfortable and aesthetical. You can keep the leather seats and cushions safe through our boat upholstery services in Dubai.
Why People Choose Our Marine Upholstery in Dubai
We're the prime choice for marine upholstery in Dubai.
Finest-Quality Fabrics


At Leather Experts, marine upholstery in Dubai involves quality fabrics, endless varieties, and classy finishes. The results have always left our customers satisfied and returning with different needs.
We know that your boat or yacht is valuable to you, and it is to us as well! Sourcing material from the best providers, we have a collection of fabrics and styles to suit your eccentric personal watercraft.


Professional Team


We employ the best team of professionals in the field to make Leather Experts a one-stop shop for all your upholstery needs. They know what they're doing and handle your valuables with utmost care. Our pro technicians have repaired countless seats, cushions, and sofas on yachts and boats. They're available on call for instant repairs and boat interior renovation.


24/7 Customer Care


The customer service line is always active! If you need boat upholstery in Dubai, give us a call, and our professional technicians will be right with you!
Searching "Marine Upholstery Near Me"? Our Process Is Simple!
It can be tiring to keep searching for the right services at reasonable prices. But with Leather Experts, you get a solution to all your requirements for boat upholstery in Dubai. The steps to solve your search for "marine upholstery near me" involve:
Call us and have our master craftsmen assess your boat/yacht.
Receive a quote for needed services and get it approved.
Choose your mode of payment; you can choose between cash and online banking methods.
Let the master craftsmen handle the repairs and other marine upholstery services.
Get a comprehensive report once the job is complete.


For your next high-quality marine upholstery project or to revive your boat to the finest level of its appearance and comfort, give us a call!
Request for Project Consultation
Check out why our customers loves us. Please tell us below if you had a positive experience, or an unfavorable experience.
Thank you very much for helping me fixing my sofa. I had a scratch on a new brown sofa and googled a leather store to find a solution. I drove…
J. Nguetta
- Abu Dhabi, UAE
Had my damaged sofa repaired and just got it back. They were able to match the colour and grain perfectly. Time estimates and price were pretty spot on. They were…
Grace Smith
- Jumeirah
Awesome service from start to finish . I can't say enough about the communication and finished product . I sent them an old Harley Davidson leather jacket that was really…
John Rick
- Deira, Dubai. UAE